ACOG recommends to start mammography between ages 40 and 50 years
According to new recommendations from the American College of Obstetricians and Gynaecologists, women at average risk for breast cancer should get their first screening mammogram at the age of 40, with the initiation of screening should begin no later than age 50 years of age.
Based on patient values and preferences, ACOG has suggested a screening interval of 1-2 years.
In a Practice Bulletin issued on June 22 (Obstet Gynecol 2017;130:e1–16), ACOG advised that, "Biennial screening mammography, particularly after the age of 55 years, is a feasible option to reduce the frequency of harms, as long as patient counselling includes a discussion that, with decreased screening comes some reduction in benefits".
Screening should be continued until least age of 75 years. After that age, patient's overall health and expected life span should be considered for continuation of screening, according to the Practice Bulletin.
ACOG has laid huge emphasis on flexibility and shared decision-making while publishing new recommendations for breast cancer screening in average-risk women.
The recommendations are based in part on a review of existing recommendations from the U.S. Preventive Services Task Force, the American Cancer Society, and the National Comprehensive Cancer Network.
Variation among the existing guidelines has created confusion for women and physicians. Below are the details.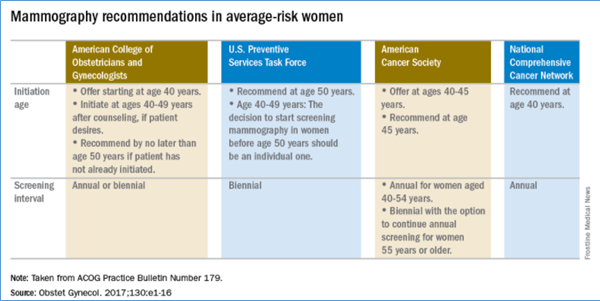 ACOG guidelines do not recommend breast self-examination to avoid the possible risk of false positives, but encourages "breast self-awareness," in terms of noticing a change or potential problem with her breasts but without the routine examination.
Clinical breast examination as a screening tool can be offered to women who are asymptomatic and at average risk, but clinicians should explain the "uncertainty of additional benefits and the possibility of adverse consequences of clinical breast examination beyond screening mammography." ACOG recommends intervals of 1-3 years for women aged 25-39 years and annually for women aged 40 years and over if performed.
These recommendations apply to women with average-risk. The Practice Bulletin also lays out a series of breast cancer risk factors that should be considered, including family history of cancer, known germline mutations, prior biopsy findings, early menarche, late menopause, breast density, and a range of lifestyle and other factors to help determine risk.
OmniMD has you completely covered.
OmniMD EHR, Revenue Cycle Management (RCM) and Medical Billing service have helped over 12,000 healthcare professionals improve their clinical operations, patient care, and collections.
Let us help you take back your practice, patients, profits and maximize your revenues.